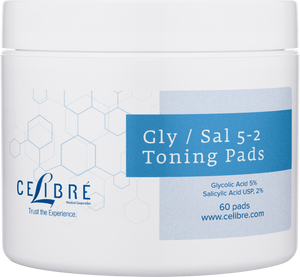 Gly/Sal 5-2 Pads
Regular price $29.95 Sale
Description: Convenient exfoliating toning pads with glycolic and salicylic acids.
• 60 count
• Specially formulated for oily, acne-prone or aging skin
• Exfoliates damaged skin with 5% glycolic acid and 2% salicylic acid
• Quickly improves the texture and tone of your skin
Recommended Use: Wipe the entire affected area with a moist pad one to three times a day. If excessive drying of the skin occurs, start with one application a day, then gradually increase to two or three times a day if needed or as directed by a physician. If extreme dryness or peeling occurs, Reduce application to once a day or every other day.
Ingredients: Salicylic acid 2% Purified Water, Glycolic Acid, SD Alcohol (13& v/v), Witch Hazel, Ammonium Hydroxide, Polysorbate-20, Disodium EDTA, Sodium Benzoate, Acetone, Imidazolidinyl Urea.
Suitable for these skin types:
Oily Skin, Combination Skin, Mature Skin